Published by Rady on Tagged
Sanya Hotels
The Landscape Beach Hotel Sanya (Sanya Lijing Haiwan Jiudian) is located in the Dadonghai Tourism Scenic Area, five minutes by car from downtown and 25 minutes from Phoenix Airport.
This Sanya hotel boasts 200 guestrooms, all of which offer sea or garden views and private balconies, as well as central air-conditioning, international direct-dial telephones, satellite TVs and internet access.
The hotel's Chinese restaurant features Cantonese, Sichuan and Hubei specialties, while the Western restaurant offers a selection of Mediterranean dishes. There are also several meeting rooms and a 250-seat multifunctional hall.
Beach and leisure activities include mountain biking, jet skiing, diving and fishing, beach football and beach volleyball. There is also an outdoor swimming pool, sauna center and a night club.
Landscape Beach Hotel Sanya Room type
| | | | |
| --- | --- | --- | --- |
| Room Type | Weekend Rate | Weekday Rate | With Breakfast |
| Stand Room | USD 79.00 | USD 83.00 | N/A |
| Harbour View | USD 98.00 | USD 105.00 | N/A |
If you want to booking Landscape Beach Hotel Sanya,please send an email to us your order information. Our email address is booking#triptosanya.com(replace # to @).
Published by Rady on Tagged
Sanya Hotels
Located in the one and only tropical seashore resort in Mainland China, Crowne Plaza Hotel Sanya is right in the heart in Yalong Bay National Resort District. Crowne Plaza Hotel Sanya is the largest business hotel and resort in Yalong Bay Sanya which is the best choice of destinations when guests plan each happy China travel.
Near Sanya City Centre around 20 km, Crowne Plaza Hotel Sanya also conveniently links to Sanya Phoenix Airport (SYX) within the distance of 40 km. The West Land and Nanshan Buddhist Cultural Tourist Center are highly recommended scenic spots and nearby attractions, such as Sanya Bay and Nantian Hot Spring, are easily accessible to the hotel.
Easy to reach Beauty Crowne Cultural Centre, Crowne Plaza Hotel Sanya perfectly unites travel and business when guests travel to China. For guests to breathe the fresh air and to enjoy outdoor activities, Sun Valley Golf Course and Yalong Bay Golf Course are suitably located near Crowne Plaza Hotel Sanya. Crowne Plaza Hotel Sanya, as one of the eminent hotels among Sanya hotels in China, caters to guests' every desire with the most welcoming service.
The Crowne Plaza Sanya is a recently built international Yalong Bay hotel featuring world-class meeting facilities, spacious guestrooms and convenient access to shopping.
Crowne Plaza Sanya is not only popular with tourists but also with business travelers, boasting the largest meeting space in Yalong Bay and state-of-the-art meeting facilities.
Published by Rady on Tagged
Sanya Travel Tips
The best time to visit Sanya really depends on the regions you intend to visit.Sanya can be visited throughout the year because of good weather and colorful activities it can offer. Generally speaking, From October to March, they are the peak tourist season of Sanya's most popular destinations since the weather is the most comfortable, neither too hot nor too cold. If you would like to experience convivial atmosphere., you can come during China"s three "golden week" holidays, which include National Day (Oct.1-Oct.7), Labor Day (May.1-May.7) and the Lunar New Year (Lunar Calendar 1st-7th) the date will change according to lunar calendar. They are the busiest time for hotels, airlines and travel agencies. Hotels and airlines would be overbooked. Therefore, the prices for hotels, air tickets and cruises are comparatively higher than the other seasons. We recommend you come to Sanya off high season, then you can enjoy the same kind of service but with less money.
Published by Rady on Tagged
Sanya Hotels
The Hilton Sanya Resort & Spa (Jinmao Sanya Xierdun Dajiudian) lies in Yalong Bay, with over 500 spacious rooms, suites and villas, all of which enjoy views of either the South China Sea or the surrounding National Park.
Rooms are furnished in a contemporary southern Chinese style, with open-plan bathrooms featuring balcony-view bathtubs. A split-level floor design provides a unique spatial perception and displays the living and dining areas to dramatic effect. Standard rooms include a spacious balcony, plasma TV, DVD player and numerous other luxury amenities.
The hotel's Spa Retreat encompasses eight treatment pavilions, a fitness center, a reflexology zone offering traditional massage and a relaxation area with deck loungers, a steam room, sauna, and an herbal tea lounge.
Other facilities include six restaurants and bars, a 3,800 square-meter pool, two tennis courts, a Kidz Paradise, and one-stop Yalong Bay Adventure Club.
Star:Five Star
Opened 2006
Address: Yalong Bay National Resort District(Yalong Wan Guojia Lvyou Dujiaqu) Sanya China
Postcode: 572000
Fixed-line phone: 86898-88588888
Number of rooms: 501
Published by Rady on Tagged
Sanya Attractions
Yalong Bay National Resort District is located 28 kilometers southeast of Sanya City.With the average temperature a pleasant 25.5C all year-round, Yalong Bay is situated in the southernmost part of Hainan Province, 25 kilometers (about 15.5 miles) away from the tropical seaside tourist city, Sanya. The scenery is amazing, with endless rolling hills, serene gulfs, clear blue sea and silvery sand beaches–three times as long as any in Hawaii. Home to several well-preserved coral reefs with tropical fish of varied kinds, colors and shapes, the ocean here is crystal clear, allowing visitors to view underwater sights up to 10 meters (33 feet) deep from the surface.
Yalong Bay boasts the five essential elements of modern tourism: sea, sands, sunshine, lush green plants and fresh air. In 1992, the Secretary-General of the World Tourism Organization once marked that this bay embraces the unique and unparalleled natural settings, sands, crystal sea water, endless seashore, unspoiled hills and pristine vegetation, making it a paradise for holiday travelers.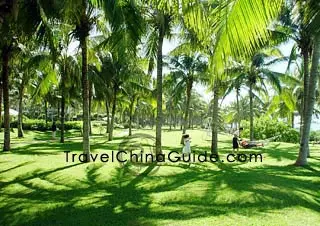 Because of the unbeatable environment, Yalong Bay Resort was authorized by the State Council in 1992. The unique state-level tourist resort is characterized by its tropical ambiance – the resort holds seaside parks, deluxe villas, conference centers, top-end hotels, golf-courses and so on. In recent years, with the perfection of facilities, thousands of travelers are attracted by its unique charm to swarm to this ideal place for vacation. And it is the first choice for people who conduct conferences and matches, including the New Silk Road Model Look China representing the top level model contests in China.
In the centre of Yalong Bay square stands a Totem Pole of 27 meters (about 88.6 feet), on which the God of Sun, and Gods of Wind, Rain, and Thunder as well as those legendary animals such as Dragon, Phoenix, Kylin and Fish are engraved. The design of this square embodies the Chinese civilization of 5,000 years and has received recognition in winning the Luban Prize – awarded to the top level design of architecture in China.
With an area of 3,000 square meters (about 3,558 square yards), Shell Hall of Yalong Bay is located in the central square of the resort. And with the shell as its theme, the Shell Hall is a comprehensive exhibition hall combining exhibition and shopping. When traveling through the hall, visitors will be surrounded by natural wonders dazzling each of the senses.
In the north of Yalong Bay is the site of Butterfly Valley, which is classified into five halls that present the most precious species of butterflies in China and other countries as well.
Yalong Bay is one and only tropical national resort district in Mainland China. The shiny sunshine, the salty breeze, the azure sky and the sandy beach have kept stealing away tourists' hearts. Yalong Bay has been regarded as the most relaxing and natural retreat in China for tourists to unwind away their burden and pressure. The irresistible tropical charm has contributed to the famous reputation of Yalong Bay.
Recommend Hotels:
FIVE STAR
Crowne Plaza Hotel Sanya
Published by Rady on Tagged
Sanya Travel Tips
Dear friends welcome to Sanya trip. Sanya is a popular tourist destination located in the southern tip of the Chinese tropical island of Hainan. It has an area of 1919.6 square km and a population of 536,000 (2006). After Haikou, it is the second most populous city of the island.Located in Sanya, the Yalong Bay and the neighbouring Sanya Bay and Da Dong Hai Resort are regarded as the best beach in China. Enjoying the same latitude and similar weather conditions as Hawaii, the Sanya Beach in recent years has been the main attraction.


WELCOME TO SANYA …..
Yalong Bay Sea Shell Museum, covering an area of over 3,000 square metres,is located at Central Square of Yalong Bay National Resort. It is the first comprehensive sea shell museum in China, merging the shellfish and shell product display into an integral whole.
Yalong Bay Central Square is located at the center of the Yalong Bay National Resort. It covers an area of 7,100 square metres. The intensively landscaped Yalong Bay Central Square is the focal point of the resort along with reception area, restaurants, shopping arcade and public beach facilities.
Butterfly Park is located behind the Longtan Lakes of Yalong Bay, covers a total area of 1.5 hectares. It is a natural garden style tourist and scenic spot merging the popular science, butterfies admiring and shopping amenities. The large-scale exhibition hall occupying a floor space of over 3000 sq.m. with more than 500 kinds of specimens of butterflies on show, displays to visitors the wonderful insect world.
Tasting the local dishes is a must on your journey. Sanya never shirks in its efforts to entertain its guests with a variety of seafood and delicious tropical fruits all the year round. Both of the star-rated hotels and a number of roadside booths serve the freshest seafood. Shopping is also a must on your journey, so don't forget to choose some sea products and beautiful decorations for you or your friends and relatives back home.
Along with the developing economy of this region, Sanya has become much easier for visitors to reach where domestic and international flights can take you in the shortest time. A journey by train and ship will take you a little more time but give you more opportunity to enjoy the natural beauty around you. With good quality, star-rated hotels and reasonable hostels distributed everywhere in Sanya and waiting for you, there is no need to worry about accommodation